The response I've heard surrounding Pinterest all echoes the same sentiment: ""this is seriously addicting." As someone who is easily distracted by sparkly things, I've forbidden myself from using Pinterest at work (only, of course, to thoroughly research this post…).
Do we really need another social network to waste hours of our lives? Better yet, how has a network that is still invitation-only managed to get 2.7 million users (and that is just those who are signing in with Facebook)?
Pinterest is a social bookmarking tool used to "pin" images found around the Web into categorized collections, or boards. Think of it like an interactive, shareable scrapbook. Like any good social network, you can follow other users, share their content, make comments, and tag users. Similar to a Twitter stream, you get real-time updates of what the people you follow are pinning. You can also easily share your pins on Facebook and Twitter.
While there aren't a lot of brands using Pinterest yet, I expect that to change very soon. The audience on Pinterest is different from the major social networks because most people use it to find inspiration, whether they are hosting a party, getting married, remodeling their bathroom, or looking for a recipe for dinner. In other words, many are using Pinterest to help guide their buying decisions. If a user finds something they like on Pinterest, there is a good chance they will at least click the source link and, at most, make a purchase.
Why People Are Obsessed
Pinterest combines two of the most compelling elements of social media: visual content and sharing who you are. Oh, and everything looks really pretty… 
HOW PINTEREST WORKS
Although Pinterest is still ""invite only," you can request an invite on the site with a pretty quick turnaround for access. You can also login using your Facebook or Twitter account for instant access. The Pinterest user interface is extremely intuitive — so much so that I think the quickest way to ""get it" is to join and from there it's very self-explanatory. But, there wouldn't be much to this post if I told everyone to just go join Pinterest…
Before I get into how this social network can be beneficial for brands, here's a quick overview of Pinterest's features:
PINS
A pin is an image or video, either from a website or uploaded from the user. A description can (and should) be added to pins.
BOARDS
Pins can be organized by topic, called boards. By default, Pinterest starts users off with a bunch of boards, but these can be deleted or renamed to suit a user's interests. Within my pin boards, I've created collections of everything from recipes I want to try to countries I've visited to ideas for organizing my home to nail polishes I think are pretty (don't judge me).
FOLLOWING
Like Twitter, you can follow anyone, even if they aren't following you back. You have the option to follow all of another user's boards, or you can just select certain boards to follow. You can sign up using your Twitter or Facebook account, which makes it easy to find all of your friends already using Pinterest.
REPINS
 
Repins are the ""retweets" of the Pinterest world. Repinning is sharing an image pinned by someone you follow or found while browsing Pinterest, and then adding it to one of your own boards. Repinning gives credit to the person who first pinned the image. You can also edit (or add to) the description when you repin something. Source links also stay on the pin no matter how many times it is repinned. You don't need to be following someone to repin from them.
LIKES
Liking a pin just adds it to the ""Likes" on your profile, but doesn't add it to one of your boards. Again, you don't need to be following someone to like their pin.
PINNING FROM THE WEB
You can add a ""Pin It" button right into your browser to easily pin things you come across on the Internet (this is currently only available for Chrome). 
You're given a choice of which image to use from the page you are pinning:
You then select which board to add the pin to, and can add a description:
The source link is automatically pulled in:
SHARING
Anytime you pin something, you can easily share it on Twitter and Facebook:
There are also share buttons alongside any pin you click on:
BENEFITS FOR BRANDS
On the surface, Pinterest may seem too niche to benefit a wide range of brands. As with any network, once Pinterest grows there will most likely be features added specifically for businesses (promoted pins? sponsored boards?). For now, there are 3 main benefitsfor brands using this network….

1. Get Seen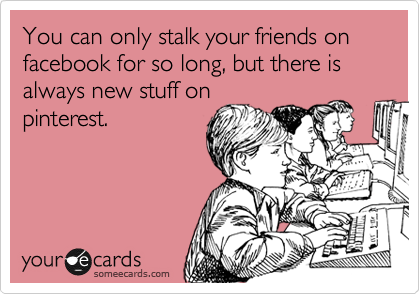 Pinterest levels the playing field for smaller retail businesses that don't have the budget or resources to compete in search results. If I search for jeans on Google Shopping, I'm going to see Levi's and a bunch of other brands I already know sell jeans.
"Discoverability" is a word I've seen thrown around a lot regarding Pinterest. Meaning, Pinterest helps people find new products/brands/styles they would normally not come across by plugging keywords into a search engine.
Chances are, the people I choose to follow on Pinterest have similar taste to me. I know I can check out their pin boards and probably see pins of jeans that would suit my taste. If I do a search for jeans on Pinterest, I know I'll find trendy options and smaller brands I don't know about, or even a DIY project for turning an old pair of jeans into a mini skirt. If I search for jeans tomorrow, I will see something new since results change as new pins are added.

2. Building Links
Anytime someone pins something from your site, it automatically pulls in not just the image from your site, but also a link. There is a chance for that pin to be repinned multiple times (even hundreds of times, in some cases), building up a healthy amount of backlinks. Here's a great post that makes the case for linkbuilding on Pinterest. You can see if people are pinning things from your site by replacing ""yoursitename.com" in this link with your URL: http://pinterest.com/source/yoursitename.com/

3. Brand Advocacy
If people love your products and they're on Pinterest, they will not only pin your stuff, but they might dedicate an entire pin board to your brand. True story: I have an entire board dedicated to Essie & OPI nail polish (again, don't judge).
Need proof people are voluntarily hawking products? Just look at some of the Diet Coke-related things I've seen:
TIPS FOR BRANDS
1. Follow, Repin & Like others 
As with any other social network, you need to share the love. This is also the best way to zero in on influencers and encourage them to follow you back and repin your pins by frequently sharing their pins.
2. Encourage employees to set up their own accounts Build clout as an industry authority by letting your staff showcase how passionate they are about your field. For example, this Kate Spade graphic designer has a few pins of her company's products, but more importantly she demonstrates she's a tuned in part of the fashion community by being active on this network.
3. Create boards BEYOND your products and your brand… …yet still related to your industry. For example, a home decor company could pin do-it-yourself books and a bakery could pin some favorite kitchen gadgets.
4. Add a Pinterest icon Let your audience know you're here by adding a Pinterest icon to your other on-site social buttons.
5. Incorporate a ""Pin It" button Even if you aren't going to set up a profile on Pinterest, you can still get your brand involved by including a ""pin it" button on your product pages or blog posts. You can also add the button to blog posts using the WordPress Pinterest plugin.
BRANDS ON PINTEREST
Who's already here? Some major brands using Pinterest include:
CONCLUSION
Currently, this community is best suited for retail, lifestyle, food, home decor, design, publishers, and travel brands. Only brands with visually-appealing content have something to offer the community.
If irrelevant brands take over, Pinterest's intimate feel could be sacrificed. Self-promoting brands risk being shunned by Pinterest's tight-knit community and it's stated in the Pinterest ethics that self-promotion is discouraged. Anytime a new social networks comes along, it is tempting for businesses to jump in. Given that Pinterest is toeing the line of a niche community, this network is not — and never will be — for everyone.
Brands that find the most success on Pinterest will be the ones that put aside self-promotion and add value to the community in a way that is unique to their business.
Do you think Pinterest is just a passing fad or do you think it has staying power? Do you think the ""Pin It" button will become as ubiquitous as the ""Like" button?